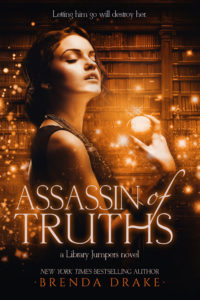 To celebrate the upcoming release of the final book in the Library Jumpers series, ASSASSIN OF TRUTHS, I've put together a pre-order giveaway.
It's been a long road to the end of this series. Full of joys and tears. Highs and lows. Mistakes. I've learned a lot along the way. If you've bought the books and/or encouraged me during this journey, thank you so much for your support. I couldn't have done this without you.
Now, onto the pre-order giveaway …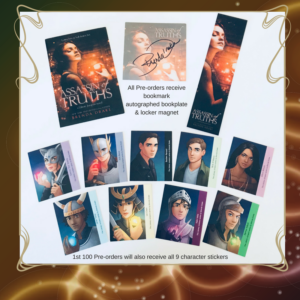 ALL PRE-ORDERS will receive a signed bookplate, bookmark, and locker magnet and will be enter into the grand prize pack.
The first 100 pre-orders will get all 9 of the Library Jumpers character stickers.
And here's what's in the grand prize pack …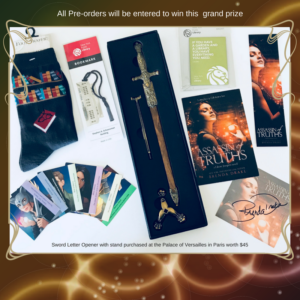 The pack includes a sword letter opener and stand that I purchased at the Palace of Versailles while I was in Paris for a book signing. It's a $45 value. There is a silver bookmark of the New York Public library building that I got while at Book Expo America. Also included is a magnet and socks from the library. The New York public library is one of the libraries that Gia goes to in ASSASSIN OF TRUTHS.
The contest starts today and ends on February 6, 2018. Open internationally.
Sign up for the giveaway here …